Valves Services
We can deliver in accordance with :
the most complex specifications imposed by the oil, gas and chemical industry.
the main international standards such as ASTM,ASME, API, AFNOR, EN,...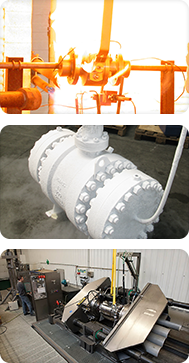 Additional testing :
Ultrasonic Testing
Radiographic Examination
Micro/Macro Examination
Hot Tensile Test
Impact Test
MPE (Magnetic Particle Examination)
Corrosion Tests
Inhouse testing :
Ambiant down to Cryogenic Testing
Dye Penetrant Examination
PMI (Positive Material Identification)
Pressure Testing: water, air, gas
...
Firesafe Certified :
Icarus has a broad range of Firesafe Certified valves. Firesafe testing of our valves is done in an independant laboratory.
Testing according :
API 598
API 6D
BS 6755 part 1
NFM 87401
PED 97/23/E
Customer specification
testing with third party inspection by TÜV, Lloyds, DNV, APAVE, AIB Vinçotte, Bureau Veritas, ...